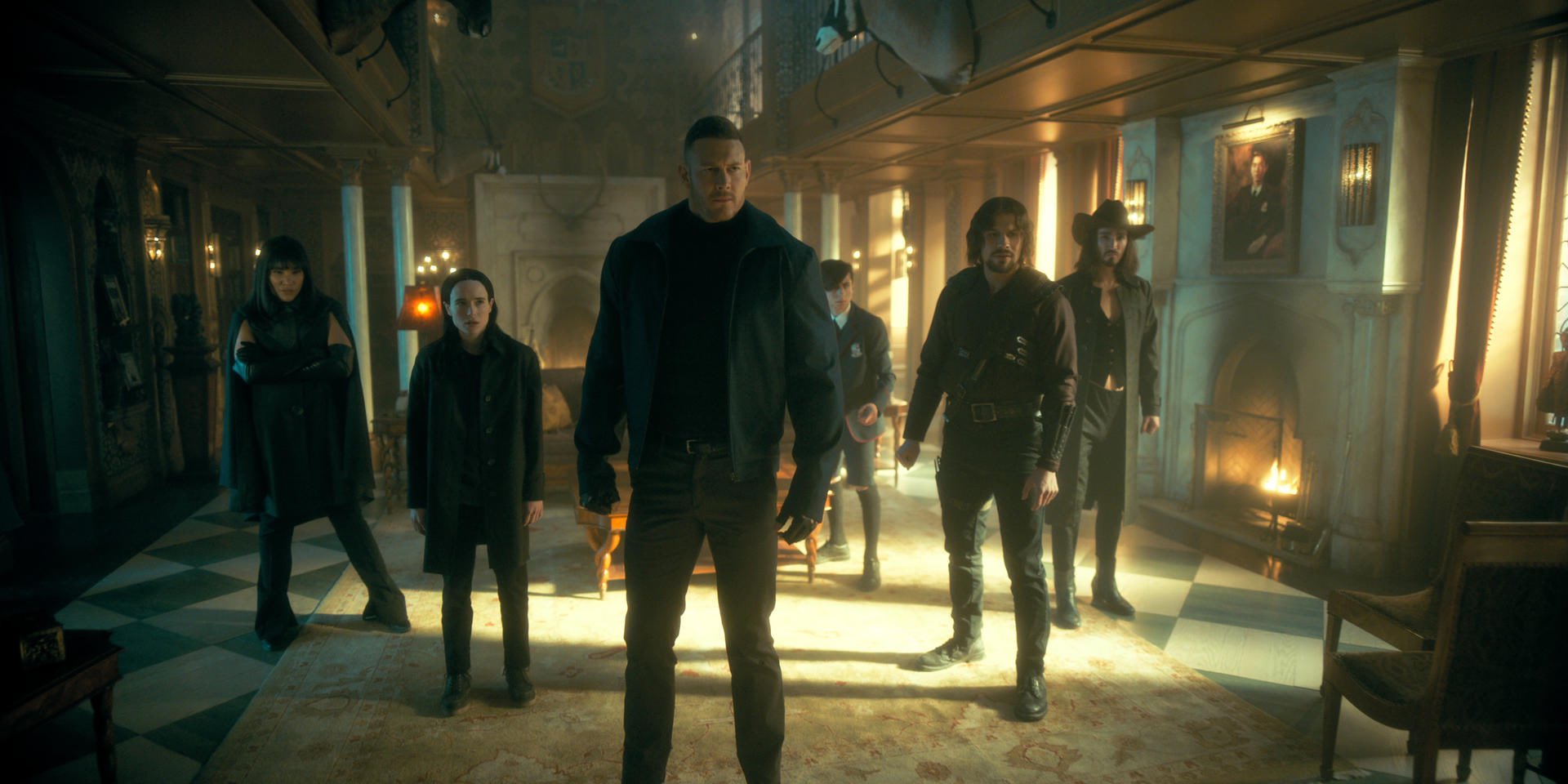 The Umbrella Academy is gearing up for its season three premiere with an all-new sneak peek at the Sparrow Academy. On Tuesday, Netflix's companion site, Tudum, premiered 3 minutes of the first episode of the upcoming season to introduce the new family, giving fans a deeper look at the Sparrows' personalities and powers.
The clip begins with seven nannies each pushing a baby carriage in a line behind Sir Reginald Hargreeves as they follow him to the front door of the Sparrow mansion, which is decorated with four banners depicting the members of the Sparrow Academy.
Marcus Hargreeves/Sparrow Number One (Justin Cornwell) is seen doing handstand pushups on the roof of the building, before drying off with a towel and throwing it to his cheering fans in the street below. Marcus is said to be many things — charming, a chiseled colossus, honest, virtuous, demanding, graceful but lethal, calculated but compassionate, smart, strong, disciplined, rational and in control. He keeps the Sparrow family together while oozing confidence and leadership without ever having to raise his voice.
Next up, Fei Hargreeves/Sparrow Number Three (Britne Oldford) is seen rock climbing up the side of a mountain. As a crow lands on Fei's arm to help her climb, the clip reveals she does not have eyes. Fei has a unique perspective on the world. At first glance, she appears to be a misanthrope who prefers to distance herself from everyone, but deep down, she wishes she had a friend. She is usually the sharpest person in the room and is willing to work things out, but if you cross her, she won't stop until the job is done.
Ben, a.k.a. #2 from the Umbrella Academy, is then seen partying in a night club with Christopher, a.k.a. Sparrow Number Seven. Ben smokes a cigar while pouring a drink of champagne with his tentacle. Christopher is a telekinetic cube. He has the ability to make a room freezing cold and instill paralyzing terror in others. He is the Sparrows' go-to oracle, offering excellent counsel and acting as a family mediator. Christopher is a force to be reckoned with since he is trustworthy and loyal.
The next scene takes viewers to Shorty's Pizza Joint, where Jayme/Sparrow Number Six fights off a couple of bullies trying to pick up their pizza. Alphonso/Sparrow Number Four steps in to claim the bullies' two pepperoni pizzas as they lay unconscious on the floor. Jayme is a loner who spends her time hanging with Alphonso, her best friend. Alphonso has a disfigured face and body from years of crime fighting. To compensate for his lack of looks, he has a caustic and biting sense of humor. The only thing he enjoys more than verbally bashing anyone who gets in his way is chowing down on a tasty pizza and a six-pack of beer.
Back at the Sparrow mansion, Sloane/Sparrow Number Five is seen hanging upside down in her bedroom reading a book titled "Jetset Life" as she dreams of a life outside of the academy. Sloane is a romantic and a dreamer who senses a greater cosmic calling that drives her to travel the globe and live a life beyond her background. But Sloane's commitments to her family keep her tied down at the Sparrow Academy. But one day, she may be courageous enough to follow through with her plans.
At the end of the clips, Sloane quickly flips right-side up before joining her fellow Sparrows as they convene on the second floor of the Sparrow Academy's mansion. Below them stands Reginald and the six members of the Umbrella Academy – minus Ben – as they're first introduced to each other. Ben then walks in to ask, "Dad, who are these a**holes?" before the clip abruptly ends.
You can watch season 3 of The Umbrella Academy exclusively on Netflix on Wednesday, June 22nd at 12pm PDT.